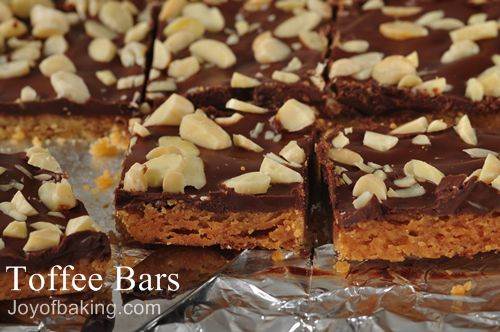 Toffee Bars:
1/2 cup (113 grams) unsalted butter, cut into pieces
1/2 cup (105 grams) light brown sugar
1 teaspoon pure vanilla extract
1/4 teaspoon salt
1 cup (130 grams) all purpose flour
Topping:
6 ounces (175 grams) semi sweet chocolate, chopped (can use 1 cup (175 grams) semi-sweet chocolate chips)
1/2 cup (50 grams) almonds, toasted and chopped
Shortbread: Preheat oven to 350 degrees F (177 degrees C) and place oven rack in the center of the oven. Line the bottom and sides of an 8 inch (20 cm) square baking pan with aluminum foil.
Melt the butter in a medium sized saucepan. Remove from heat and stir in the sugar and vanilla extract. Then add the salt and flour and mix just until incorporated. Spread the shortbread evenly on the bottom of the prepared pan and bake for about 20 to 25 minutes or until the shortbread is golden brown with well browned edges.
Remove from oven and immediately scatter the chopped chocolate over the hot shortbread. Return the shortbread to the oven for a minute or two or just until the chocolate softens. Remove from oven and, with an offset spatula or back of a spoon, evenly spread the chocolate. Sprinkle the chopped almonds over the chocolate. Place the pan on a wire rack to cool.
Once the chocolate has set, lift the shortbread from the pan using the edges of the foil. Place on a cutting board and, with a sharp knife, cut into 16 squares.
Store in an airtight container. These will keep for several weeks at room temperature or in the refrigerator.
Makes about 16 squares.
Note: To toast the almonds. Place the almonds on a baking sheet and bake in a 350 degree F (177 degree C) oven for about 8 minutes, or until lightly browned. Let the nuts cool completely and then chop.
Source: Medrich, Alice. Cookies and Brownies. Warner Books. New York: 1999.